Top 50 Players in the NBA

2010 Edition
Here's how it works:
If all the players in the NBA were re-shuffled and Player X was placed on a team with average players at every other position, how positively would Player X impact that team's chances of winning a championship?
The rankings are not based on current contracts or how many years Player X has left in the tank, but are based on the 2009-2010 season only.
*sorry if the pictures and captions are a little off. I couldn't get the site to format them right ...
And here are the rankings …
50. Andre Miller
There were a ton of guys I considered for the #50 spot (among them: Turkoglu, Noah, B. Davis, Ariza, S. Jackson, Nene, Biedrins, Love, B. Lopez, Perkins, Calderon, and a million others) but ultimately I went with Andre Miller because of his all-around game, his superb passing ability, and his overall leadership quality on Portland, one of the best teams in the West.
49. Lamar Odom
One of the most well-rounded players in the NBA and a perfect fit for the triangle-offense, Odom excels in his limited role in LA. He also is married to a Khardashian.
48. Marcus Camby
Well on his way to his 7th straight season with 10 boards and 2 blocks, and anchoring a surprisingly good Clippers' defense. He also has the best assist-to-turnover ratio of any big man in the NBA.
47. David West
Chris Paul's underappreciated sidekick scores 17 and pulls down about 7 boards a game, which is good; but he had 21 and 8 last year and his decline in production is part of the reason for the Hornets' lackluster start.
46. Chris Kaman
The Central Michigan alum is one of the ugliest, weirdest looking dudes in the NBA, but he can rebound pretty well and is scoring over 20 ppg. He's actually the highest scoring "center" in the NBA right now (Dirk, Bosh and Stoudemire are considered PFs). Between Kaman and Camby, the Clippers have a scary good frontcourt. And they still have #1 overall pick Blake Griffin sitting on the bench, which means something's gotta give.
He may not be much to look at, but Kaman is an effective low-post player.
45. Russell Westbrook
Oklahoma City's diminutive point guard is one of my favorite little-known players in the NBA. In just his second season, he's averaging 16 points and 7.5 assists, as well as being one of the best rebounding guards in the NBA – second in boards to only Jason Kidd. He's also top five in blocks among point guards, and is a major reason for OKC's wildly successful season.
44. Vince carter
I've never liked Vince Carter. He was a douche when he was with the Raptors, and a douche on the Nets, so I assume he's probably still a douche on the Magic. He's always been a 'high-volume-of-shots, low-shooting-percentage' kind of scorer, (a la Iverson or T-Mac), and in my opinion those are the dumbest type of players in the NBA, if you actually want to win games, and not just sell tickets. It's like having a running back in the NFL who gets to carry the ball 40 times a game but doesn't average more than 3 ypc. It doesn't make sense. But now that he's on Orlando, where ironically he has career lows in both PPG and FG%, Vince has been forced to take a backseat to Dwight, Rashard and the rest of the gang, and is averaging less FG attempts per game than ever before in his career. Which is a good thing.
43. Devin Harris
It's hard to rank a Nets player this high considering their woeful 3-39 record, but I'm still a believer in Harris's game and haven't backed off my thoughts that he's one of the more underrated players in the NBA. It's been a tough year for him, and he doesn't have many excuses for not being able to win. He plays alongside a good scorer (Douglas-Roberts) and a good big man (Lopez) in an offense that was supposed to be explosive. But they've been absolutely horrid, and his numbers (15 ppg and 38% from the floor, compared to 21 ppg and 43% last year) have not looked very impressive. Bottom line though: would I rather build have Harris at point guard, or a guy like Rodney Stuckey or Jameer Nelson? The answer would still be Harris.
42. Andrew Bynum
Rumors are swirling that a Bynum-for-Bosh trade may be in the works, which could be detrimental to Bynum's development, and also to anyone other than the Lakers having a chance at the 2010 title. But for now, Bynum is a sometimes-dominant, sometimes-lousy big man who benefits from playing next to Kobe and Gasol. But, he does have one of my favorite NBA
highlights
of all time. Check it out.
41. Corey Maggette
Maggette's a very easy player to forget about. I keep having to reminding myself that he's on the Warriors, not the Clippers. But scoring 20 ppg at a 54% clip is solid no matter where you play, and he ranks in the top ten in points scored per 48 minutes. Which is another way of saying: he's efficient. In fact, there is a little-used statistic called 'PPS' which stands for Points Per Shot, which measures a players' field goal percentage against field goals attempted, factoring in 3-pointers, and guess who ranks #2, behind only Dwight Howard? Yup, Corey Maggette. There's only one other non-center in the top five, and I wasn't surprised to see that it was indeed Chauncey Billups.
40. Andrew Bogut
The #1 overall pick in 2005 was considered a bit of a bust for a while, and is still underperforming considering his contract (just signed to a 5-year, $60 million extension). But the 7-foot Australian is finally showing signs of why he was drafted ahead of Chris Paul, Danny Granger, Deron Williams, …. wait … no, never mind. But, he is averaging 15.5 and 10 rebounds, and has become one of the best shot-blockers in the NBA.


"Still trying to figure out how I was picked #1 overall, to be honest..."
39. Antwan Jamison
It's been a season of turmoil for Wizards fans; they were expected to contend for a high playoff seed, and instead raced out to a 3-9 record and haven't won more than two games in a row all season. Then Gilbert Arenas did one of the single dumbest things that any professional athlete has ever done, and threw away approximately $100,000,000 in the process. Now the entire Wizards roster, except for Jamison, is going through the motions and competing with no energy or heart. Sort of like the Detroit Pistons have been doing for the past 3 years. Wait, who's the Wizards' coach again? Flip Saunders? Hmmm…..
38. Tyreke Evans
Among rookies, Tyreke is 2nd in assists, 4th in rebounds, 2nd in steals, 6th in blocks, and 1st in scoring with 21 ppg (and a solid 46% fg) Filling in for injured Kevin Martin, Tyreke also led the Kings to a 15-21 start with very little help from one of the worst supporting casts in the NBA (they won only 17 games all of last year). He's the hands-down favorite for ROY honors. Looks like picking Evans over Ricky Rubio with the 4th overall pick wasn't such a bonehead move after all, huh? NBA.com currently has Evans ranked in the top 10 in the MVP voting; that's a bit of a stretch in my mind, but make no mistake, he is a future star. If you don't believe me – listen to this and prepare to be blown away. The only other rookies to ever average 20 points, 5 rebounds and 5 assists in an NBA season: Oscar Robertson, Michael Jordan, and LeBron James. That's it.
37. Manu Ginobili
I contemplated kicking Manu out of the top 50 entirely, for the following reasons: he plays only 25 minutes a game; he has only started 8 games over the past two seasons; he scores only 12.7 per game, making him just the 4th highest scoring Spur; his shooting percentage is 40%, a career low; and I just don't like him. But I think he's a product of a weird system, and is still a top 50 NBA player if he were on any other team. For some reason, the Spurs like to bring their third best player off the bench and start Keith Bogans instead. I'll never understand it. But Ginobili is a great shooting guard, and a proven winner in the clutch, and would start and score 20+ for 90% of other teams. And he did
this
earlier this year, possibly the most amazing thing I've ever seen.
36. Carlos Boozer
A year ago, when Boozer was the primary guy Joe Dumars was targeting in the offseason, I wasn't all that excited. Now, I would gladly trade our entire roster for C-Booze to be in Piston blue. The guy commands respect on both ends of the floor, and gives effort every single night. He runs the pick-and-roll with D-Will brilliantly and is a bona fide top 8 power forward in the NBA.
35. Zach Randolph
Who would have ever thought that Z-Bo, the self-proclaimed gangsta who has been arrested numerous times for assault and drugs and other stupid things, and has been linked to illegal dogfighting, would one day actually live up to his potential and be a top 50 player in the NBA? This isn't the first time Z has averaged 20 and 10 in the NBA, but it is his best season by far. His percentages are up. His idiotic problems are way down. And he seems to have reinvented himself in Memphis. In fact, the Grizz have actually assembled a pretty solid core of players (Z-Bo along with Gay, Mayo and Marc Gasol) and might actually be competitive in the years to come. The former MSU Spartan is 5th in the NBA in rebounds/game and 15th in points/game.
34. Mo Williams
Otherwise known as "The Only Reason LeBron Might Stay In Cleveland," Mo Williams has been an ideal sidekick for LeBron. Of the 50+ guys who have attempted at least 150 threes this season, Mo has the best 3pt% with 42.9%. (The lowest? A pretty close race between Baron Davis' 27.7% and D-Wade's 28.8%). But that's neither here nor there. Mo also dishes 5 assists per game as a 1/2 guard hybrid and scores 17. He's good. But not quite good enough to keep LBJ in Ohio.
Next season, Mo is going to be the best player on the Cavs. Uh oh ...

33. Rashard Lewis.
The ten game steroid suspension was not helpful, but the Magic did okay without him. Then he came back and Orlando reeled off 10 wins in Shard's first 11 games back on the court. Maybe the Magic are just a really good team. Or maybe Rashard is one of the most underrated all-around forwards in the league. I'm not sure which is true. But I do know that they haven't lost a step this season replacing Turkoglu with Vince Carter, and Lewis is a big reason why. And I know that he made at least 2 three-pointers in 18 consecutive games and has already hit 80 this season, while shooting a solid 39% from downtown, (an average of one 3-ball every 13 minutes, which is the second best rate in the NBA – behind only Danny Granger). I know Rashard is the major benefactor of playing alongside the NBA's best big man, and he scores only 15 a game, but I'm keeping him on the list primarily because he's the second best player on a team which is 28-15 and went to the NBA Finals last year.
32. Andre Iguodala
The poster boy for "Best Player on a Crappy Team." He is working on his fourth consecutive season with 18 points, 5 assists and 5 rebounds, and is perennially in the top five in steals. That's all great. But the problem with Iggy is that he's shown little to no improvement over his five year career, and Philly hasn't finished above .500 since he was drafted in 2004. And this year has been their worst season yet in terms of winning percentage. And I'm not saying that has anything to do with the heralded return of (All-Star) Allen Iverson. But it does make you wonder …
31. Josh Smith
The best shot blocker in the NBA, one of the most athletic players in history of the NBA, and a do-it-all forward for the surprisingly awesome Atlanta Hawks. He scores 15 per game, racks up 8+ rebounds and about 4 assists, and has 1.5 steals to go with his almost league-leading 2.2 blocks per game. Among non-centers, he has a full block per game more than anyone else. Also, he is shooting above 50% this season for the first time in his career; on a related note, he has attempted only 3 three-pointers this season, whereas over the past four seasons he chucked up an average of 112 per season, missing the great majority of those shots. He has finally learned not to shoot stupid shots, and that's a huge accomplishment in the NBA.
30. Jason Kidd
Props to J-Kidd for finally learning to shoot the ball at this late stage in his career. After 15 years in the NBA, he is shooting a career high percentage this year: 43%. Which is awful for most players. But for Kidd, it's a major improvement over his career average of 40%. Part of that success is that he's nailing 41% of his shots from behind the arc, which is excellent. Of course, Kidd has maintained his usual spot in the top five in assists per game with 9+, and seems to have finally given up his obsession with triple-doubles and pilfering rebounds from his teammates; his rpg is down to 5.3, compared to the 7's and 8's he's averaged over the past decade. Which is probably a good thing for Dallas, because when a guy aims for triple-doubles rather than wins, it doesn't help the team.
29. David Lee
Holds the distinguished honor of being the best Non-International White Dude in the NBA. But he's more than just a great white guy. He's actually a terrific player. He's averaging 11 rebounds for the second straight season, and has upped his ppg from 16 to 19, and also his assists, FG% and FT%. In fact, he's averaging a full 5 assists per game in January, which is unbelievable for a center. Especially a big white goofy center on the disastrous Knicks.
The good news? Lee is the best American-born white guy in the NBA. The bad news? He's still on the Knicks.
28. Ray Allen
I know he looks a lot better on the stacked Celtics than he did floundering away in Seattle, but I still can't ignore how quickly he has climbed from a top 20 shooting guard to a top 5 shooting guard. Part of that is because of the decline of T-Mac, Vince, Rip, Manu and several other marquee SGs. But Ray is still the same player he was when he averaged 25 a game over 5 seasons in Seattle, only now he takes a lot less shots. He's still a 90% FT, 40% 3pt, 46% from the field kind of guy and a deadly scorer in the clutch.

27. Tony Parker
Just like all the Spurs, Mr. Longoria is having an underwhelming statistical season, but remains a great player. The Spurs are a lot like the Patriots of the NBA: gruff, mean coach, a sense of entitlement, and they don't really turn it on until the postseason. They probably peaked at around the same time as New England too, about four years ago. But if Tim the equivalent of Tom (Duncan-Brady), I think that makes Tony Parker the Wes Welker of the NBA. Tough. Little. Kind of cute in a rugged way. Not afraid to get bullied by the bigger guys and jump right back up. Welker leads the NFL in catches across the middle. Parker leads all NBA guards in points in the paint. That's why he shoots almost 50% from the field and is able to score and dominate games without taking too many shots.

26. Monta Ellis
Unless you play fantasy basketball or watch a lot of Warriors games, you might not know anything about tiny Monta Ellis. But the dude averages 26.7 points per game, leads the Western Conference in minutes per game and has the sixth best scoring average in the NBA. Ellis also offers a solid 5 assists per game from the 2 position, and is second in the NBA in steals per game, behind only Rondo. He's extremely explosive and impossible to defend, in both the transition and the half-court offense. Sort of like an old-school Iverson, without all the nonsense.

25. Rudy Gay
When the Grizzlies drafted Kevin Love with the 5th overall pick two years ago, it looked like we were bound for a Gay-Love era in Memphis for many years to come, which would have been awesome. Can you imagine … "Gay … to Love … back to Gay … he scores!" It was too good to be true ... but Love was traded for OJ Mayo, among others. Now we have the Gay-Mayo connection, which isn't bad either. But anyways, Rudy Gay is quietly having a great season with the Grizz, scoring 20 with 6 boards and 1.5 steals. In fact, I have him ranked as the seventh best small forward in the NBA, which is incredible considering how stacked the 3 position is this year. To go back to the point about the emergence of the Memphis Grizzlies (see #35), ever since they began the season 1-8 and looked destined for another awful year, they have won 22 of 33 games, giving them the second best winning percentage in the West since mid-November and a legit shot at the playoffs. Wow.
24. Derrick Rose
Last year's ROY had one of the most memorable first-round playoff battles of all time against Boston in 2009, losing in seven games after a combined seven OTs. After averaging 16-6-4 as a rookie, he notched averages of 20-6-6 in the playoffs, which is the kind of improvement you want to see from a player in the postseason. (Granted, half of those games went into OT and thus the numbers are inflated). But still, there's no question he played his best ball of the season in the playoffs. This year he's averaging a very solid 19-6-4 and carrying the Bulls on his shoulders, literally. Okay, not literally. But almost.
23. Rajon Rondo
Statistically, I could have ranked Rondo as high as #10. He's top five in the NBA in assists, leads everybody in steals, scores 14 per game on 52% shooting and grabs 4 rebounds per game. On top of that, he's probably the peskiest on-the-ball defender in the NBA. He's really, really good. But, the reason why he's only ranked #23 … simply put, he plays for the Celtics. And when you play PG next to 3 All Stars and a handful of solid role players, you should be able to perform well statistically. And you've got to shoot better than 58% from the free throw line. Seriously.
22. Amare Stoudemire
No question that Amaré is a super freakish athlete and a dominant big man in certain phases of the game. He's powerful and fast, unstoppable in transition, and can score off the pick and roll better than almost any big man. But he has definite flaws, including a failure to develop a low post move that makes him double-team worthy. He's a poor rebounder given his size (only 8.7 per game) and a liability on the defensive end. My feeling is that after 5+ seasons of relying on Nash to run the Suns offense and set him up for the easiest monster dunks in history, Amaré has become a little overly-dependent on Nash, and isn't great at scoring on his own. In fact, when the inevitable day comes that Nash and Stoudemire are separated, I wouldn't expect him (Amaré) to keep scoring 20 a night, or even close to that.
21. Kevin Garnett
I really wasn't sure where to rank Garnett to be honest. He's been sitting out for nearly a month with an injury, after missing 30 games and the entire playoffs last season. And when he has played this year, it's been a modest 15 and 8, and only 30 minutes on the court. His days of being a 14 rebound, 2 block Defensive MVP are over. But for one season and one season only, I'm not sure how many players I would rather have than KG. Look at what he did when he joined the 24-win Celtics in 2007: won 66 games and an NBA title in his first season in green. I know he's a couple years older now than he was then, but I think he's still the same player and I know he's still the same fiery leader and psycho-fierce competitor. Last year he sat out the entire playoffs; this year, if he's at 100%, or even 80% health, I don't think anyone in the East can beat Boston.
20. Al Jefferson
The guy (well, one of the 7 guys) that Boston traded to obtain Garnett two years ago has really come into his own in Minnesota, averaging a consistent 20 and 11 over the past three seasons. Although the Wolves are a wretched 9-34, and started the season 1-14, you can't blame Jefferson for that. He really swapped placed with Garnett in more ways than one, because now he's stuck being the only good player on a crappy Minnesota team, a role that KG occupied for a decade. Jefferson started this season out slow, averaging just 16 points and 7 rebounds over the first month of the season, but that was primarily because of the nagging knee injury that sidelined him for most of 2008. Since December, he's up to his usual 20 and 11 per game, and shooting a solid 50% from the field. He's one of the precious few big men in the league who know how to use their size to dominate the paint on both ends of the court, and command double teams. In a league full of goofy 7-foot international players who shoot the 3 and stay out of the paint, it's nice to have a big monster like Jefferson to remind us of the good old days.
19. Pau Gasol
Speaking of goofy, 7-foot international players … The big Spaniard is averaging a very respectable 17 and 11 this year, shooting 54% with 1.5 blocks and 85% from the line. Great. He also guest starred on CSI Miami earlier this year.

18. Danny Granger
First of all, this guy desperately needs a nickname. Partly because of his boring name, and partly because of his rising superstar status. Last year he finished fifth in the league in scoring without anybody noticing. This year he's in seventh, despite having a torn plantar fascia, whatever that is. His numbers have dropped across the board (points, rebounds, blocks, and all percentages) but he's still having a stellar season, he's still a highly efficient scorer, and he is playing injured. It's gotta be tough being the only black guy on the Indiana Pacers.

Granger celebrating with one of his many goofy white teammates.
17. Chauncey Billups
16. Deron Williams
I'm grouping these two together, even though they are quite different players at very different stages in their careers. But in my mind, there is a clear 1-2-3 ranking of NBA point guards, which will be revealed in a moment, and then these two are deadlocked for 4-5, and I think they've distanced themselves from Rondo, Kidd, Parker and the rest of the pack. It's tough for me to put either guy ahead of the other. Both guys are more concerned with winning than stats, and that's the key. Williams is a bit faster, a bit more athletic, and a better passer, as well as a better scorer in traffic. But Chauncey is the consummate leader, the most poised point guard in the NBA, and the definition of 'swagger.' He has the better three-ball, and uses his physical strength to back down smaller guards and score when he wants to. But both guys know how to defer to their teammates, especially Boozer and 'Melo, and both have their teams in great shape to make a playoff run.

15. Gerald Wallace
Dwight Howard is probably going to win D-MVP this season, and he does deserve it. But if the voters gave the award to Gerald Wallace instead, I wouldn't object. Gerald has easily surpassed both Ben and Rasheed as the best 'Wallace' in the NBA on defense, and was already considerably better on the offensive end. In fact, he's raced past just about every player in the NBA except maybe Howard when it comes to contesting shots, pulling down rebounds and dominating the defensive end. He can honestly defend the opposing team's best player, position 1-5, and that is a very rare ability. Big Ben was too slow to guard 1's; Artest is too small to guard 5's; the only guy I can think of who could guard 1-5 would be an early 90s Dennis Rodman. He (Gerald) averages 1.7 steals and 1.2 blocks a game along with 11+ rebounds, and does countless hustle plays every night that don't show up on the stat sheet. He's not a slouch on offense either, scoring 19 ppg and shooting 48% from the field.

14. Paul Pierce
Although Pierce is posting the lowest ppg and rpg totals since his rookie season, I actually think he's having the best year of his career. He's still giving the C's 19 points, 5 rebounds and 4 assists per game, and his percentages are the highest they've ever been all the way across the board – 47% from the field, 84% from the line, and an exceptional 47% from downtown. Of the guys who shoot 45% or better from long-range, Pierce is the only one who scores more than 10 per game. His PPS (points per shot) is 8th best in the league. The scary thing is: Pierce makes four Celtics in the top 30. If the Pistons were still a playoff team, I'd be worried.

13. Joe Johnson
For the fifth straight year, JJ is right on the brink of being a 20-5-5 guy, and while his numbers haven't drastically improved in recent years, his team's winning percentage has, and that's what matters. Joe is shooting 35% from three-point land, 83% from the free-throw line, and has the Hawks currently tied with Orlando for the Southeast Division and the third seed in the East. There's nothing flashy or boisterous about his game, just good old-fashioned running around and shooting. He's like a more athletic, better shooting, less whiny version of Rip Hamilton.

12. Tim Duncan
In his 13 year Spur career, Timmy has averaged a phenomenally consistent 21 and 12; he's never scored less than 18.6 in a season, and never had less than 10 boards. His block per game totals have wavered from the 1.9 to 2.9 range, and his FG shooting has never fallen below 49%. As I've said before, he's the most consistent superstar of our generation. This year: 19.9 points, 15.5 boards, 1.8 blocks, and 3.1 assists - the most of any center in the NBA. His FG% is a career high 54% and his FT% is also a career high. And amazingly, he's doing this all with a career low in minutes. And oh by the way, the Spurs haven't missed the playoffs since Timmy was drafted #1 overall in 1997, they've won 4 championships and only lost in the first round twice, and are on pace to win 50+ games for the 13th straight season.

11. Brandon Roy
It can't be easy to be the franchise player on the bad-luck Blazers, where injuries abound and epic flops like Greg Oden roam the streets. But Brandon Roy has filled that role beautifully, and has guided the Blazers to another very respectable season. With respect to CP3 and Kobe, Roy is probably the best two-way guard in the NBA; meaning that while he averages a rock solid 23 points and 5 assists, he also deserves mention for the All Defense First Team. His steals numbers are just modest, but any analyst will tell you that his relentless on-the-ball defense is unparalleled, and that's a main reason why Portand allows the fewest points per game in the Western Conference. If you have a few minutes to kill, do a Youtube search for Roy and there are countless plays that literally left me jaw-dropped; the crossover on Wade, the dunk on Dalembert, and the move that made Matt Barnes fall down, just to name a few. If nothing else, check out
this
play. Unreal.
10. Dwayne Wade
You probably think this is too low a ranking for D-Wade, but I actually thought long and hard about swapping him and Roy, thus knocking Wade out of the top 10. Of all the players who rank in the top 20 in ppg, Wade's shooting percentage is the worst. He continues to jack up three while shooting one of the worst 3pt% in the league (a habit that he can't seem to kick); and most importantly, the Heat struggle to win games. They haven't won 45 games since 2005. Intangibles like leadership and unselfishness and poise are infinitely important in basketball, and none of those things are Wade's forte. He likes to drive, shoot, and be on Sportscenter; until he refocuses his game on winning and using his teammates, Wade is destined to a disappointing career.

9. Chris Bosh
One of the great tragedy's of the NBA is that Chris Bosh's years of playing for the Raptors while simultaneously looking like a Raptor are almost over. After the Summer of 2010, he'll be playing somewhere else. Outside of that though, he's having another great year: 24 ppg and 11 rpg (top 8 in the NBA in both categories), 52% from the floor (the best percentage of anyone in the top 10 in scoring) and a solid 78% from the free throw line – where he shoots from more than any big guy in the league except Howard. He leads the NBA in double-doubles. Just a great season from one of the many All Stars the Pistons could have drafted instead of Darko.

8. Kevin Durant
The numbers alone are staggering in Durant's third season in the NBA: 29 ppg, 7 rpg, 48% from the field, and 87% from the FT line. His points per game have steadily increased in each season, from 20 to 25 to now almost 30, and the scary thing is: he's just now getting good. He's the only player in the NBA other than LeBron who really has no ceiling on how great he can be. He's a do-it-all scorer and makes it look purely effortless. KD is currently third in the NBA in scoring and is breathing down the necks of Carmelo and LeBron for the scoring title. Over the past month, Durant has averaged more than 32 per game while shooting 55%, and at that rate he's gong to blow past them both. He's made more free throws than anybody in the NBA by almost 50. And the best part of everything is … oh yeah, Oklahoma City is finally winning games. In Durant's rookie year, they (then in Seattle) finished with a horrid 20 wins; last year they won only 23; so far this season, Durant has led them to a 24-19 start and a good shot at the playoffs. If he doesn't win Most Improved Player this year, it's a sham.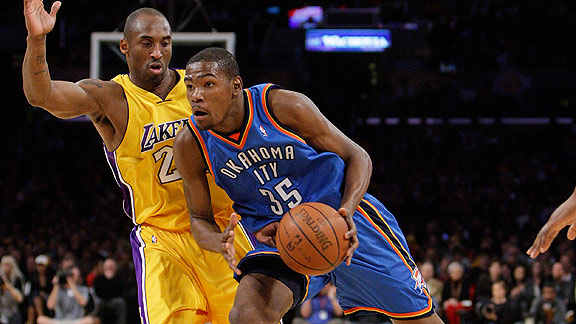 Guess which one of these guys scores more points per game? Hint: it's not the one you'd expect.
7. Chris Paul
2007 was CP3's breakout year. 2008 was his MVP-caliber year. 2009, thus far, has been his year of regression. Scoring is down from 22.8 to 19.5. Steals are down from 2.8 to 2.3. FG% and FT% are down. Rebounds are down. And the Hornets winning percentage is down. They're only .537 right now, but finished .598 and .683 the two previous seasons. It's been a rough year for Chris Paul; his teammates have been disappointing at best, and those Old Spice commercials are terrible. A far cry from last year, when I ranked him #2, above Kobe.

6. Dwight Howard
Superman is poised to win his second consecutive Defensive MVP award, averaging an unseemly 13 rebounds and 2.4 blocks per game, both league-leading marks. He also shoots 60% from the field and commands double, triple and sometimes quadruple teams in the paint. Simply put, he's the most feared big man alive and the most dominant defensive player in the NBA. That's the good news. The bad news is that his scoring average has dipped from 20 to 17, and that's largely due to his grotesque free throw shooting - under 60%. If he can solve the free-throw shooting conundrum, he could become one of the all-time greats at center and could easily score 25 per game. If not, he'll be an offensive liability and the Hack-A-Howard crap will start. I'm surprised it hasn't already.

5. Steve Nash
The 19 points and 11 assists are impressive. The fact that Nash has single-handedly kept the Suns competitive in the West and has them in position to have home-court advantage in the first round of the playoffs is huge. But the most impressive thing is the percentages: 53% from the field. (Best of any point guard). 95% from the stripe (best of anyone in the NBA). 43% from downtown. Unbelievable. He has reclaimed his title as the best point guard in the world.
4. Dirk Nowitzki
Nobody who ranks in the top 20 in scoring per game has a better 3-point percentage than Dirk's 38%, and nobody tops his 88% FT percentage either. His 25.5 ppg is the best of any big man in the NBA, and he averages a reasonable 8 rebounds and 1 block per game – numbers that should be higher considering he is 7-foot, but aren't terrible. He really is the epitome of an inside-outside threat, and can score from anywhere on the court. And here's the kicker: the Mavericks have won at least 50 games in every single season since 2000 (when Dirk became a full-time starter), and are on pace to do it again.

3. Carmelo Anthony
I could go on and on about how 'Melo has really developed as a player and dropped his selfish, thuggish reputation and become one of the most reliable and dominant scorers in the NBA and become a team player and is utterly lethal at scoring in transition, in the paint, from the perimeter, in mid-range and at the free-throw line where he has improved his percentage by almost 7% this year, and how he has turned Denver into a consistent winner and one of the best teams in the NBA and is the third best player in the NBA right now … but instead, I'd like to do a little comparison between Carmelo and the guy who was drafted one pick ahead of 'Melo in 2003. Carmelo's career scoring average: 24.6. Darko's: 5.4. Carmelo's games started over the past two seasons: 104. Darko's: 15. Times Carmelo has scored 30 or more in a game: 143. Darko's career scoring high: 21. Let's give a big, sarcastic round of applause for Joe Dumars.

(giant chasm)

2. LeBron James
"The Chosen One" lost a lot of my respect when he couldn't beat the Magic in the ECFs last year. "The King" needs to win at least one NBA Finals game in the first decade of his career. "The Almighty" spends a little too much time worrying about what jersey he's going to wear in 2010, and a little too little time worrying about winning in the playoffs. Okay I made that last nickname up. But LeBron, for all his statistical amazingness and unparalleled physical ability, was surpassed sometime last postseason by a guy who's refusal to lose is truly only paralleled by Michael Jordan. This season has been a great one for LBJ; I mean, you can't exactly sneeze at 29 points (almost 30), 7 boards, 7.8 assists, 1.5 steals, 51% FG and a 31-11 record. But the reasons I'm moving him from #1 to #2 are twofold: first, I don't trust him to win in the playoffs. I don't think Cleveland is a lock to beat Orlando, Boston, or Atlanta. And I know his teammates aren't great, but that's not an excuse anymore. If LeBron was actually as great as he thinks he is, he wouldn't need great teammates. He would make them great. And the second reason is that LeBron has spent the entire 2009 season with his head in the clouds, thinking about the 2010 offseason and the enormous $$$ offers he's going to see from the Knicks and Nets and Clippers and everyone else, and I don't think he has the focus and sheer competitiveness to sleepwalk through the playoffs the way he's been sleepwalking through the regular season. I actually think that deep down he wants to lose in the playoffs, because then he has a legit reason to leave Cleveland next season. And we all know he wants out.
1. Kobe Bryant
Statistically, it's no comparison between Kobe and LeBron. Physically, it's no contest either. So why am I moving Kobe from #3 last year to #1 this year, when he's past his physical prime and in the middle of a month-long statistical downslide? Partly, because he's the only player in the NBA who would simultaneously play with back spasms, a hyperextended knee, and an broken finger on his shooting hand, while continuing to score 25+. Partly because Kobe was poised to win the scoring title before all the injuries forced a drop in his minutes, but he has continued to play limited minutes, even though he is fully aware that he is steadily dropping out of the top 5 in ppg. The old Kobe Bryant would have let that bother him, and would have probably sat the bench until he was 100%. But the wonderful thing about the new Kobe is that at this point in his career, he no longer cares about winning the scoring title. All he cares about is winning in June. And because of that, for the first time in Kobe's tumultuous 13 year career, he can finally be compared to Michael Jordan.
For the longest time, the common knock on Kobe's career was that he couldn't win a championship without Shaq. Last year, he proved that wrong. Sure he had a great supporting cast with Gasol, Bynum, Ariza and Odom, but he was undeniably the best player in the world during last year's playoffs. Shaq or no Shaq, Kobe legitimately owns 4 championship rings, which is more than everyone in the top 10 combined. If I had to bet on any one player in the NBA to singlehandedly win the 2010 championship, it would have to be Kobe.
You really can't go wrong either way ...
I hope you enjoyed the list. Let me know your thoughts: who is too high, too low, who should have made the list but didn't, etc. I realize there were no Pistons on the list, even though plenty of guys are talented enough to make it. But between the injuries, the whining, the selfishness, and all the losing, I didn't feel any of them deserved a spot in the top 50. Houston was the only other team to have no players on the list.